---
Please Note: This web site makes extensive use of CSS for styling
If you can read this message, it is probably because your browser does not properly support CSS or you have disabled this yourself
Although the content looks better with with CSS 'turned on', this site is perfectly readable either way
One oddity you may notice (with CSS turned off) is the display of text that is intended for PRINTERS ONLY
---
---
Research & Development News [Nelson Foodies]
---

Compostable, Single-Use Festival Tents Made from Biodegradable Materials

Festivals are a great way to spend the summer, but they generate a huge amount of waste - which includes plenty of cheap tents that were used once and then thrown away.

A biodegradable tent is a great idea for cutting down on the amount of trash that ends up in landfills when the summer season is through.

[...]



---

Biodegradable, customer-friendly bags add quality for national and international consumption

The Upper Nun Valley Development Authority, UNVDA, agro-industry now boasts of customer-friendly product packaged in biodegradable bags which can compare favourably with the best packaging for rice anywhere in the world.

[...]

They respect norms required by the Ministry of the Environment, Nature Protection and Sustainable Development after the recent

ban on non-biodegradable materials

. The new product appeals and management of UNVDA says they could be recycled.

[...]

a response to customer demands to move from the old fashioned packaging

[...]

The-36-year old agro-industry has a mission to reduce poverty for the inhabitants of its area of intervention, contribute to food security and increase agricultural production and productivity.

[...]



---


[...]

According to a recently published report by TechSci Research a global research based management consulting firm "Europe Biodegradable Plastics Market Forecast & Opportunities, 2019", the biodegradable plastics market in Europe is forecast to witness a robust CAGR of around 12% during 2014-19. The growth in the market is being supported by various factors such as increasing environmental awareness among consumers, strict implementation of environment friendly laws and growing R&D investments in the bioplastics sector by public as well as private sectors.

European Union's decision to reduce overall consumption of thin plastic bags in the region by about 80% by 2019, compared to 2010 consumption levels, is expected to create huge growth opportunities for biodegradable plastics manufacturers over the next five years. The reduction in the usage of conventional plastic bags is expected to directly boost the consumption of biodegradable plastic bags in malls, retail outlets and loose packaging applications.

[...]

Biodegradable plastics based on cellulose, starch and polylactic acid (PLA) dominate the biodegradable plastics market in Europe, accounting for more than 80% of the total market share, in volume terms, in 2013. With significant technological advancements driven by public private partnerships, biodegradable polymers have become cost-competitive with petroleum based products. These technology advancements have also facilitated improvements in various properties of biodegradable plastics over the recent years. "The demand for biodegradable plastics is witnessing a significant rise from conventional end-user industries such as packaging, agriculture and textile.

[...]

Realizing the benefits offered by biodegradable plastics, several research studies are underway to improve the commercial viability of these niche applications. The future of biodegradable plastics in Europe is expected to be bright due to imposition of stringent laws mandating significant reduction in plastic bag consumption in the region over the next five years," said Mr. Karan Chechi, Research Director, TechSci Research.

[...]


---


[...]

Ilker Bayer from the Italian Institute of Technology led a team that explored an alternative method of producing bioplastics that utilizes unwanted food scraps.

[...]

Plant starches are derived from peas, corn, and potatoes, which utilizes crops that could be used for food.

[...]

Rather than use cellulose from wood or hemp, the researchers utilized food scraps including cocoa pod husks, parsley waste, rice hulls, and spinach stems.

[...]

As an added bonus, the resultant plastic also kept certain properties of the plant from which it was derived. In addition to coloring, the plant type also influenced the integrity of the plastic making it suitable for different uses. Spinach-based bioplastic was rubbery and flexible, while the rice-derived plastic was more rigid. The researchers also speculate that bioplastic created from cinnamon could be naturally antibacterial.

[...]



---


Sugary drinks are off the menu at the Nelson City Council and from all of its events as of this week.

[...]

Nelson is the first council in the country to ban sugary drinks and follows the Nelson Marlborough District Health Board in doing so.

[...]

Water will replace sugary drinks at all council community events, but the policy will not impact on alcoholic beverages or the Cricket World Cup, which is sponsored by PepsiCo. "My focus is on the young children in our community and giving them a healthy choice," said Reese.

[...]

Reese said she had received positive feedback from a number of community-based organisations wanting to get involved - with Riverside Pool replacing all sugary drinks with healthier alternatives and Nelmac offering to provide free drinking water at all events. "This is actually so simple. It′s just about choosing what you supply. It′s a choice and what we didn′t want to do was take something away and not replace it," she said. Nelson Marlborough DHB principal dental officer Dr Rob Beaglehole, who inspired the DHB′s move to ban the drinks, backed the council′s decision. "The DHB totally supports what Rachel and the Nelson City Council has done because she′s acting as a great role model to other councils around the country," he said.

[...]

The Nelson Marlborough DHB spends $1 million a year to treat children with rotting teeth.

[...]

This position by the Nelson council was a turnaround from the previously elected council which was split over the sugary drinks ban last year. The issue made it no further than the debate stage, while the Tasman District Council voted against a ban last year.

[...]


---


The number of nominations for Wanaka Wastebusters' Unpackit awards has doubled on last year, with 424 lodged.

Eight finalists for the worst packaging have been announced from 287 nominations from members of the public, and eight finalists for the best packaging were chosen from 137 suggestions.

Spokeswoman Sue Coutts said the awards, which received funding from the Environment Ministry's waste minimisation fund, aimed to encourage New Zealanders to choose products with minimal packaging which could be reused, recycled or composted, and was clearly and accurately labelled. They also intended to raise awareness about the packaging waste problem.

[...]

Ms Coutts said New Zealanders used about 180 million disposable cups a year and it was likely those which were recycled ended up as a contaminant because they were made from a mix of materials - a paper cup and a plastic lid.

[...]

Ms Coutts said companies "really sat up and took notice when they were nominated by their customers for an Unpackit award".

[...]

The winners would be decided by public vote.
voting closed on 8 November 2013

[...]


---


[...]

The Democratic-led, 51-member body passed the legislation unanimously yesterday in Manhattan. It prohibits restaurants, food carts and stores in the largest U.S. city from selling or providing single-use cups, clamshells and trays, as well as peanut-shaped packing materials, made from a type of thermoplastic petrochemical called expanded polystyrene. An amendment gives officials a year to determine whether the substance can be recycled in an "environmentally effective, economically feasible and safe" way. If not, the ban will take effect as passed July 2015.

[...]

Almost 100 cities and towns, including San Francisco, Seattle and Portland, have banned polystyrene food and beverage containers, according to the Natural Resources Defense Council.

[...]

The foam doesn't biodegrade and can't be recycled, according to the mayor's office. It makes up an estimated 20,000 tons of the city's annual waste and contaminates the stream of recyclable metal, glass and plastics, the office says.

[...]


---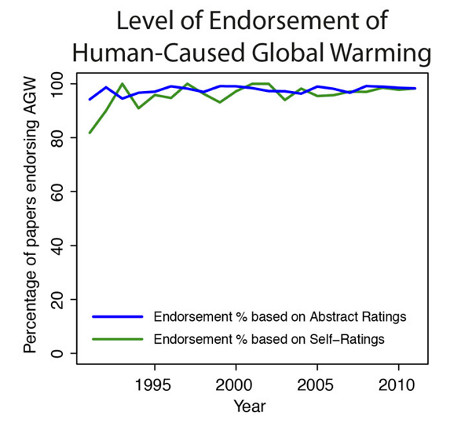 Overwhelming majority of peer-reviewed papers taking a position on global warming say humans are causing it

[...]

We fully anticipate that climate contrarians will respond by saying "we don't dispute that humans cause some global warming." First, there are a lot of people who do dispute that humans cause any global warming. Our paper shows that their position is not supported in the scientific literature.

Most papers don't quantify the human contribution to global warming, because it doesn't take tens of thousands of papers to establish that reality. However, as noted above, if a paper minimized the human contribution, we classified that as a 'rejection'. For example, if a paper were to say "the sun caused most of the global warming over the past century," that would be included in the less than 3% of papers rejecting or minimizing human-caused global warming.

[...]

Quite possibly the most important thing to communicate about climate change is that there is a 97% consensus amongst the scientific experts and scientific research that humans are causing global warming. Let's spread the word and close the consensus gap.

[...]


---


Last night hundreds of environment ministers, diplomats and UN delegates from around the world sat down to a five-course dinner prepared with fruit and vegetables rejected by UK and European supermarkets, that would have otherwise have been wasted, at a landmark meeting of the UN Environment Programme in Nairobi, Kenya.


---


Takeout food and to-go coffee will no longer be served in Styrofoam containers if the city Sanitation Department has anything to say about it.

The department is planning to suggest the city ban all food-service providers from using containers made from the material, an official said Monday night.

"I'm proposing legislation to ban Styrofoam in New York City," deputy commissioner for recycling and sustainability Ron Gonen said.

Details of the suggested legislation are being hammered out now, Gonen said, but it will focus on businesses that buy huge amounts of the hazardous material, not on individual consumers.

"The onus would not be on the consumer," he said. "This would not be something that the consumer would have to deal with."